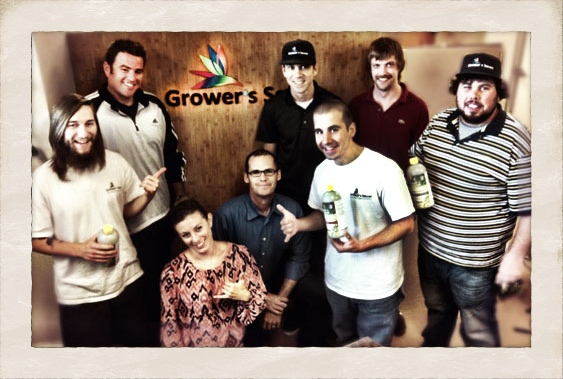 Aloha Friends,

With the San Francisco IGE Show just days away, we are excitedly preparing to meet you –– and to let you in on our latest secrets. Grower's Secret was founded in Hawaii with the discovery of the mushroom metabolite in our flagship product, Grower's Secret Professional (GSP). This patented bio-stimulant is at the heart of our technological innovation in plant growth science. From Hawaii to the mainland, we've been busy developing new GSP-based products to meet all your needs. We hope you will come find out what we're talking about. Plan to make it to booth #349-351 and say Aloha. Here are eight reasons you'll be glad you did:
First of all, get lei'd and enjoy a refreshing Hawaiian beverage;
Speak with Dr. Wes Chun, our Hawaii-based Chief Science Officer who discovered our mushroom technology and is the brain behind our growing line of innovative organic solutions;
Hear about the phenomenal results from other Grower's Secret users;
Learn about the industry's only complete organic nutrient system built especially for hydroponics as well as the benefits of becoming an authorized Grower's Secret METHOD retailer;
View and order our all new Grower's Secret METHOD (GSM) starter kit, "The GSM Organic Grow Box" –– created for you by popular demand;
Be there as we pull back the curtain on our latest innovation, Grower's Secret ELEMENTS –– at IGE for the first time anywhere;
Meet your Sales & Grower Support Executive and the whole team –– we are eager to welcome you to SF and to helping you grow your business by meeting the unique needs of your organic growers;
Last, but not least: Take full advantage of our Show Specials!
Click here sales@growerssecret.com to e-mail us if you would like to join us for a private reception Friday, July 21 at 5:30 pm.
Click here sales@growerssecret.com to email us if you can't make the IGE show but would like a chance to learn about and take advantage of our new innovations.
Visit us at Booth #349-351 at MAX YIELD IGE San Francisco, 7/21-22 and meet Chief Science Officer Dr. Wes Chun.