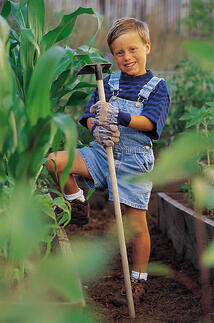 Children are naturally curious, learn by experience, and love to play in the dirt! These qualities make them natural gardeners. Gardening with your child can help them learn responsibility, observe the life cycle, and appreciate the literal fruits of their labor. If you're eager to start gardening with your child, consider planting these top four plants for kids, which are easy to grow, have a short maturation period, and are fun to harvest.
Sunflowers
Plant no more than one or two sunflowers, since they take up a lot of space. Expect the flowers to sprout in just one week and shoot to two feet tall in a month. After eight weeks, the beautiful flowers reveal themselves and offer hundreds of seeds, some of which you can save for next year.
Snow Peas
This fast-growing plant is fun to eat right off the vine, as long as you avoid the use of chemicals in your garden. Snow peas germinate in about ten days and are fully mature in about two months.
Pumpkins
If you have the room, this is a must for any child's gardening experience! Seeds should sprout in about one week and vines should begin to crawl along the ground a few days after that. Once three pumpkins begin to grow, pick off any new blossoms so you get three good-sized pumpkins within 80 to 120 days.
Cherry Tomatoes
These are easily among the most enjoyable crops for a child to grow. Plant seedlings in full sun and tie the shoots loosely to a two-foot stake next to each plant for the best results. Add plenty of organic fertilizer and water the plants at ground level to keep the leaves dry. The growing season lasts 50 to 75 days.
Teach your child the love of gardening; start planting today!