We love it when we hear success stories like this from our customers! Grower's Secret Professional possesses very unique, powerful and patented properties that can improve your favorite crop!

Dear Grower's Secret,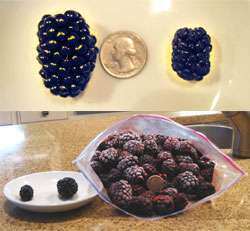 Last winter our lawn care service mistakenly pruned all of our blackberry canes and we thought we would not have a harvest of blackberries this summer. Our local nursery recommended your Grower's Secret Professional to stimulate new root development. We applied your GSP every two weeks for about three months along with your 5-2-1 organic fertilizer and we could not believe what happened! Twice as many canes grew from the stalk and this summer our berries were over twice the size of last years harvest. We freeze our harvests so that we will have a supply during the winter months. Here is a picture showing an average size berry from last year's harvest compared to this year.
Thank you.
Helen Sanger, California.