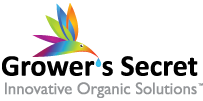 Organic Plant Growth Enhancement and Fertilizer Company Surpasses Convertible Note Round Goal
San Francisco, CA (PRWEB) January 30, 2013
Plant growth innovator, Grower's Secret™, is pleased to announce the recent $3.3 million close of its convertible note financing round. The unconverted notes have now been converted at 50 cents per share. The notes surpassed the original target of $3 million providing affirmation of Grower's Secret's strategy to offer organic plant growth enhancers and fertilizers that help feed more people while repairing the earth.
The additional $3.3 million from new and existing investors, some of whom are strategic, comes on top of $6 million in equity capital Grower's Secret has raised since its founding in 1998. The company continues to raise additional capital for its expansion with a new $1 million equity round, and is now engaged in discussions with private equity firms and strategic investors on an even larger round for fall 2013.
"We plan to use the funds to expand our sales and support team, add to our patent thicket, and increase our marketing efforts to generate a larger customer base," said Chaz Berman, CEO, Grower's Secret. "This year marks our 15th anniversary and we entered 2013 with an excess of $1 million in pre-booked orders for delivery this year, which accomplishes one-third of our annual goal of $3 million. We are thrilled to watch this momentum continue to build, as we have an amazing product and story to tell."
For almost a decade, Grower's Secret operated as a research and development sandbox in Maui, HI, where it was founded, developing seven utility patents and a process to scale production. The company spent another three years pursuing applied research on more than 40 crops and began commercialization two years ago. Today, Grower's Secret enables both traditional and organic growers, plus home gardeners, to increase the yield and strength of their crops.
Recently, Grower's Secret Professional has been accepted by a number of large organic growers, including Dole Fresh, Driscoll's and more. This is in addition to Grower's Secret's relationship with Marrone Bio Innovations, and an accelerating and expanding customer base.
"These are exciting times for Grower's Secret," said Berman. "In addition to our announced partnerships, we are continually adding solutions to our highly integrated offerings, and we are pursuing multiple opportunities for growth. It's both rewarding and humbling to be recognized as the poster child for success in the organic plant growth enhancer segment. It is exciting for us to be a part of this connected organic market beginning to expand in the U.S. and globally."
About Grower's Secret, Inc.
Grower's Secret™ celebrates 15 years of operations in 2013. It discovered, developed, patented, and is now commercializing organic plant growth enhancers and fertilizers for a number of distribution channels: agriculture, horticulture, indoor gardening, lawn and garden dealers, including big box retailers.
The company's premier product, Grower's Secret Professional, is derived from one of the best examples of symbiosis in nature between a specific fungus and its host tree. These plants have developed the ability to help each other prosper during eons of existence. Grower's Secret developed a process to extract this material, which signals a plant to live up to its potential, grow bigger, faster, and produce more, larger, and uniform crops.
Grower's Secret Professional is made from 100% edible materials, and it is OMRI (Organic Materials Research Institute) and COIM (California Organic Input Material, managed by CDFA, California Department of Food and Agriculture) listed. The material is in compliance with NOP (National Organic Program) under the USDA (United States Department of Agriculture).
Grower's Secret operates research laboratories in Puunene, HI, processing facilities in Oakland, CA and sales, marketing and administration in San Francisco. For more information visit http://www.growerssecret.com or contact Wren Coe at wrenc@growerssecret.com.