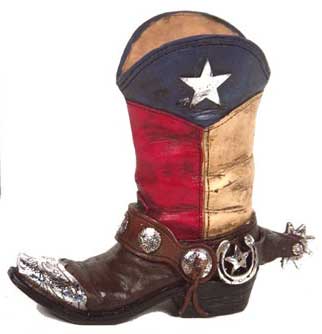 As a senior person here in Grower's Secret I have had the privilege to visit many of our customers across the United States from Hawaii to New York, from Washington to Florida, and many places in between. This position also allows me some discretion to write pieces that are closer to my heart and my history, including about Texas. I've lost my twang and my "ya'll" but I thought I would focus less on business and more on "preciatin my Texas roots." I apologize if this inappropriately fills your inbox but this post is just for my Texas folk.
PLEASE IGNORE THIS PART: First, forgive me, but I have to tell you to at least consider the really great offer for the BUYBACK GUARANTEE. It's one we argued about whether you would believe in the product and whether you would believe it was worth it. I think it is. We'll share everything we know and you can decide. Take a look here.
GREAT THINGS IN TEXAS: Since Grower's Secret has been visiting Texas as part of its road trip it reminds me of the great things that I experienced while growing up around the state. Our backyard looked out on to the Rutherford Ranch's 13,000 acres and driving to Dripping Springs today to visit my parents still makes me long for some favorite pastimes. Below are some of the top things that Texas Monthly says every Texan should do (with a little of my own commentary thrown-in to boot).
Order a Brown Derby "with legs and loafers" from any Dairy Queen (the old-fashioned name for a dipped cone). I used to order it like this in every DQ I went into and learned just recently that "loafers" are a dollop of dipping chocolate squirted into the bottom of the cone and ordering it with "legs" just means "to go."
Sit in the Country Store in Cotulla on the first weekend of deer season and listen to hunters talk about their day. Regardless of how you feel about hunting, today and even back when I was a kid, 40 years ago, this was less about the hunting and more about going out with your buds. The first time a saw a javelina (gun in my arms) I went running like a scared little girl. Those guys still haven't let me live it down.
Float in inner tubes down the Guadalupe River on a hot summer day with a cooler in tow. It's relaxing. It's fun. And it ends in New Braunfels where the nicest people are

serving some of the best sausage anywhere in Texas.

..
Mosey over to Fort Worth's Southwestern Exposition and Livestock Show and inhale. When we lived in Irving I wouldn't miss this for the world.
Watch the sunset and sailboats glide under the causeway in South Padre Island. Padre Island is the home of memories for many of us. Too many stories start

out with "Member that time down at South Padre when…"

Pick your own piece of meat from the giant pit at Cooper's Old Time Pit Bar-B-Q in Llano. I've visited Cooper's a couple of times. It's well worth the drive. But one that I can never pass up when I'm visitin is The Salt Lick in Driftwood heading out to Buda. Some of the best Q you'll find.
Crack a cascarón over the head of someone you like during San Antonio's Fiesta.

'nuff said.

Eat a Fletcher's Corny Dog under the armpit of Big Tex at the State Fair of Texas in Dallas.

I'm an even bigger fan of some of the best jerky in the world found at the fair.

Meander around Marshall on a December evening admiring a thousand miles of Christmas lights.

You'd be lucky to experience this once in your life. I visited when I was a kid and have wanted to go back ever since.

Consume rice balls, shrimp étouffée, and a heaping platter of Cajun culture at the Texas Rice Festival in Winnie.

This ranks right up there with Port A's ShrimpFest.

Go to Muster on the Texas A&M campus on San Jacinto Day

, where Aggies old and new and their family members gather to remember classmates who have died. It's an amazing moment for everyone. I am proud to say that my brother carried on his Aggie tradition in the hills of Afghanistan with his brother marines.

Visit Brady, the heart of Texas.

We used to make a pilgrimage out this way about every three years. Seeing the Howitzer parked in the town square made me feel like Texans would fight to the end from anything or anyone.
Whether you live in Trans-Pecos, High Plains, Central Texas, East Texas, Gulf Coast or South Texas area, I'm sure you have some of your own recommendations that every Texan should do. Thanks for letting me reminisce and share.