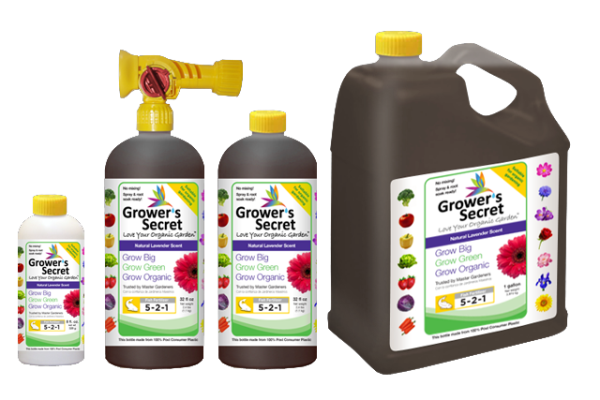 For Earth Day it just seemed like the right thing to do.
Some say Grower's Secret is in the organic fertilizer business; or that we're in the organic gardening business; or that we're in the sustainability business; or that we're in the save the world one organic garden at a time business — and they're right!
As part of our commitment to the environment, Grow Green 521 is packaged in containers made from 100% post-consumer plastic. What's in the bottle matters, but we also believe that what the bottle is made from matters, too. Rather than creating new, "virgin" plastic, we reuse old, discarded plastic that might otherwise be sitting in a landfill or floating in the ocean.
What we didn't realize when we started was how difficult it would be to source and manufacture the recycled materials. In a market-driven economy, if there isn't significant demand for a product, companies won't make it. Pretty basic stuff. And while recycling in the U.S. has become increasingly sophisticated, rates of recycling – especially for plastics – have actually declined. Plastic bottles were recycled at a rate of 40% in 1996 vs. 23% in 2006. Quoting statistics accurately can get a bit dicey, but suffice to say that the more consumers demand that their products be delivered in recycled packaging, and the more manufacturers spec recycled materials for their products, then the more suppliers will be compelled to supply it.
While using 100% post-consumer plastic gives us less control over the color and other aesthetics of our packaging, it gives us more control over how our company impacts the environment.
Read more about the use of plastics and recycling in our daily lives by clicking on the link to our eco-packaging page.