An edible flower plated with even the most unattractive slop can turn your dish into gourmet cuisine. Edible flowers have gained popularity in the foodie's world, over the last couple of years, in salads, soups, casseroles, candied or as garnishes, but this trend is not new. Roman, ancient Chinese and Victorian civilizations, among others, prized edible flowers for their beauty and delicate taste but using edible flowers can be tricky and dangerous if not done correctly.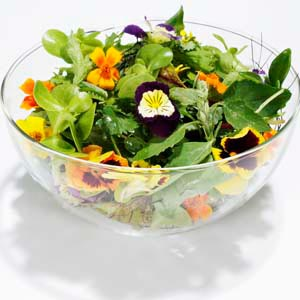 The first recorded mention of the culinary use of flowers dates back to 140 B.C. The ancient and modern Chinese use daylillies and chrysanthemums in their dishes while Romans used mallows, roses, and violets. Edible flowers were very popular during the Victorian era as part of salads, candied flowers and as garnishes for baked goods and wedding cakes. Victorian favorites included violets, borage, primroses, gilly flowers and nasturtiums.
The use of flowers as food is quite alluring but precautions should be taken. Not all flowers are edible and many are quite poisonous. Also, there are many plants that have edible flowers, but have poisonous stems or leaves. Make sure you completely identify the specimen before consuming and do your research on what parts are edible. You should also never use pesticides with flowers you intend to consume. Instead, use a product an organic all-purpose fertilizer like Scott's Organic Miracle Grow or Grower's Secret Grow Big 521. Lastly, you should not eat flowers if you have allergies and flowers should not be eaten in bulk as they can cause an upset stomach.
Harvest your flowers early or late in the day when the blossoms are cool. Sugars and volatile oils which contribute to the aroma and flavor, are highest before heat and photosynthesis converts them into starch. Most blossoms should be harvested at or near opening. Before cooking with your flowers, wash and remove the stamens and styles which house the bulk of the pollen. Pollen can hinder a flower's delicate taste and can cause allergic reactions.
Violets, chrysanthemums, roses, honeysuckle and chives are good flowers to begin your culinary journey. Some common landscape and flowering plants that you should avoid eating include clematis, hydrangeas, sweet peas, azaleas, daffodils, daphne, lily-of-the-valley, foxgloves, bleeding hearts, rhododendrons, wisteria, oleander, lupines, hyacinths, four-o'clocks, calla lilies, and castor beans.