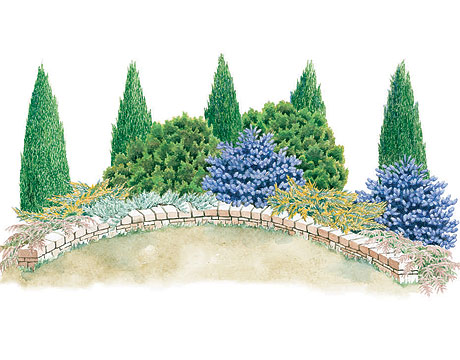 Miss those holiday decorations yet? Winter can be so bland with its gray and white palette but red Santa's and Green Christmas trees can brighten your yard or garden. Don't fret; there are many non-holiday decorations you can use to brighten your outdoor space, sans plastic reindeer on top of your roof.
There are many ways to bring color and texture to your garden, this year, but you may also want to plan for next winter as well. When the ground warms up, grab a shovel and get to work planting evergreens of every color, berry-bearing trees, ornamental grasses, evergreen perennials and deciduous trees with interesting bark.
Evergreens don't come in one color. There are evergreens of every shade of green and silver, too. Try planting a blue spruce or jack spruce with a silver Colorado Spruce for a pop of winter color. Berries add a small but loud amount of color to a snowy backdrop. Try crabapples, holly, snowberries, bittersweet and viburnum. They will hold their berries during the winter and flower during the spring. Deciduous trees lose their gorgeous leaves in the winter but this can expose the interesting and beautiful bark of many of these trees. Dogwood and Birch trees add an interesting mix of color and texture to any garden. Also plant a mix of evergreen perennials and ornamental grasses for late winter beauty.
If you can't wait to banish the murkiness of winter from your garden, there are many things you can do to brighten up your outdoor space this year. Start by taking in the beauty of what you already have in your garden. Are there dried vines, ivy or naked tree limbs covered in snow? Leaves that haven't fallen? Look at the natural beauty of your garden first. If you decide you need more of a winter garden overhall, evaluate what you already have, next. Hanging pots, hardy containers or pots and window boxes can be adorned with winter sprigs and twigs or you can plant a little winter garden of small evergreens or evergreen perennials. Outdoor garden ornaments or statues are also an easy mainstay for jazzing up your garden. Lastly, you might try creating a path through your yard or garden so that you or your guests can walk through and appreciate your hard work in beautifying your outdoor living space, snow or shine.