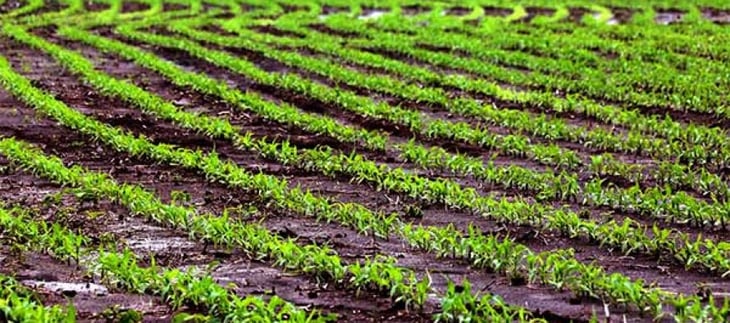 Prolonged rain events can cause fertilizer losses due to runoff, leaching, or denitrification. The type of nitrogen loss is dependent on the soil infiltration rate, the type of fertilizer applied, and how recent was fertilizer applied. Fertilizer runoff occurs when fertilizer was recently applied to the surface and rainfall exceeds the soil infiltration rate. Leaching occurs when fertilizers have been mineralized into nitrates which are soluble in water. Depending on the temperature and microbiological health of the soil, it takes approximately two weeks for ammonia fertilizers, one week for urea, and a few days for fish emulsion to be mineralized into nitrate. Depending on the amount of rain, nitrate leaching can be a problem for both shallow and deep rooted plants. Denitrification occurs when water remains on the soil surface and the soils becomes slightly anaerobic. Soil microbes then scavenge nitrates for the oxygen producing N2 gas that is lost through volatilization. Since nitrogen drives the processes occurring in the plant, any lost of nitrogen will severely impact crop performance.

If your crops have received a significant rain event and your crops have not suffered severe damage, you should consider replenishing the nitrogen that may have been lost. It is best to seek advice from your local extension agent as differences in geography, soils and climate will affect nitrogen loss. Leaf tissue N analysis should be used to estimate how much nitrogen will need to be applied. However, if the lower leaves of your plants are turning yellow and the upper leaves are light green, you have a nitrogen deficiency problem. Replacing nitrogen will be most important if synthetic fertilizers were initially used as significant loss of available N may have occurred. Some organic fertilizers are almost immediately taken up by plants and soil microbes, so runoff, leaching, and denitrification are not a concern. You should be able to continue your management program as soon as soil conditions are stable enough for your equipment.

Choice of fertilizer to replace lost nitrogen will depend on the stage of your crop and how much delay in growth has occurred. There is a 1 to 2 week window before the nitrogen in synthetic fertilizers is mineralized and available for plants. If a quicker response is needed or if additional rain events are expected a week later, consider a foliar application of an amino acid based fertilizer to get the much needed nitrogen into your plants.

Grower's Secret Nitrogen is an amino acid based product that can be applied as a foliar spray, through irrigation or to the soil. It is very quick acting and contains very low amounts of nitrate, ammonia nitrogen and salt. It does not need to be mineralized before it can be used by the plant. Its normal application rate is 5-10 pounds per acre, depending on plant needs, and can be applied as a stand alone product or in combination with other products.

If you would like to receive technical information on Grower's Secret Nitrogen to help correct nitrogen deficiencies please give Kim Miller or Chuck Schiller a call at (888) 217-9426 Ext. 101.