Scientists debate a new way of understanding flora.
The New Yorker just published the following article that explores the question, Are Plants Intelligent?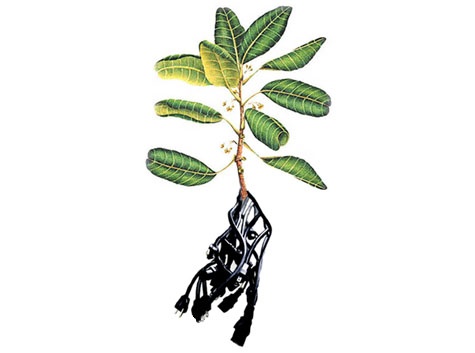 In 1973, a book claiming that plants were sentient beings that feel emotions, prefer classical music to rock and roll, and can respond to the unspoken thoughts of humans hundreds of miles away landed on the New York Timesbest-seller list for nonfiction. "The Secret Life of Plants," by Peter Tompkins and Christopher Bird, presented a beguiling mashup of legitimate plant science, quack experiments, and mystical nature worship that captured the public imagination at a time when New Age thinking was seeping into the mainstream.
The most memorable passages described the experiments of a former C.I.A. polygraph expert named Cleve Backster, who, in 1966, on a whim, hooked up a galvanometer to the leaf of a dracaena, a houseplant that he kept in his office. To his astonishment, Backster found that simply by imagining the dracaena being set on fire he could make it rouse the needle of the polygraph machine, registering a surge of electrical activity suggesting that the plant felt stress. "Could the plant have been reading his mind?" the authors ask. "Backster felt like running into the street and shouting to the world, 'Plants can think!' "
Backster and his collaborators went on to hook up polygraph machines to dozens of plants, including lettuces, onions, oranges, and bananas. He claimed that plants reacted to the thoughts (good or ill) of humans in close proximity and, in the case of humans familiar to them, over a great distance. In one experiment designed to test plant memory, Backster found that a plant that had witnessed the murder (by stomping) of another plant could pick out the killer from a lineup of six suspects, registering a surge of electrical activity when the murderer was brought before it. Backster's plants also displayed a strong aversion to interspecies violence. Some had a stressful response when an egg was cracked in their presence, or when live shrimp were dropped into boiling water, an experiment that Backster wrote up for the International Journal of Parapsychology, in 1968.
Read more at The New Yorker.