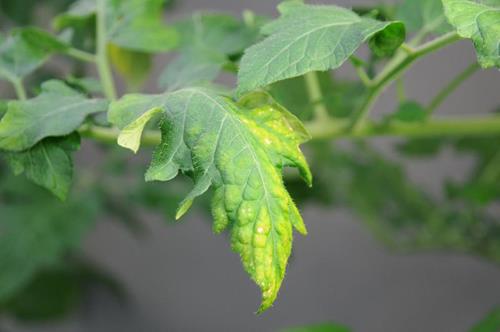 By Bob Johnson
A series of recent University of California studies indicate that processing tomato growers should consider testing their soil to make sure there is enough available potassium to produce maximum yields.
In the most recent trial, supplemental potassium applications, well above the usual practice, significantly increased yields last year in a commercial tomato field in the Sacramento-San Joaquin Delta.
"In 2016, we conducted a potassium fertilizer rate trial in a commercial off the north delta," said Brenna Aegerter, University of California Cooperative Extension vegetable crops advisor in Stockton. "We observed a significant linear response of yield to potassium application rates."
When no potassium was applied in the delta trial, the crop produced 46.6 tons per acre, but as potassium rates were steadily increased all the way up to 800 pounds, the crop responded with yields that also steadily increased to 51 tons.
Although the quality differences were not statistically significant, these high-yielding plants also produced tomatoes that generally looked better in terms of fewer green and pink fruit, less mold and higher soluble solids.
Potassium deficiency looks to be the unintended result of the extraordinary success of the buried drip irrigation systems that have become the norm in processing tomato production.
"As tomato yields increase, crop removal rates will also increase, to the tune of roughly six pounds of potassium per ton of fruit," Aegerter said. "If fertilization levels are below that which is removed in the crop, you may not leave sufficient potassium to supply future crops, depending on what the soil is able to supply."
Average processing tomato yields have increased from 35 tons to 50 tons as drip became standard over the last two decades, which translates into an additional 90 pounds of potassium removed from the soil every time the crop is grown.
At the same time as more potassium is steadily removed, drip systems are able to mine a smaller area of the soil for nutrients.
"With buried drip irrigation, the volume of soil the roots explore is limited, and therefore the drip wetted zone can potentially become depleted." Aegerter said. "With high yields and a limited volume of soil explored, potassium supplementation may be warranted."
Aegerter decided to test the effects of high rates of potassium after UCCE farm advisor Gene Miyao saw a yield response in the Sacramento Valley, first after applying composted poultry manure and later after using potassium fertilizer.
"Our work built upon work by Gene Miyao, who has been conducting trials in the Southern Sacramento Valley over a number of years, looking at applications of composted poultry manure or potassium fertilizer," Aegerter said.
Miyao began years of studies of tomato response to potassium after seeing that the crop frequency yields much better after applications of composted poultry manure, which is high in the nutrient.
UCCE farm advisors in other areas have also reported potassium issues in tomatoes, and have also seen growers respond to the challenge.
"I have seen potassium deficiency in both processing and fresh-market fields on many occasions," said Scott Stoddard, UCCE farm advisor based in Merced. "Not always, but it is more likely to happen in that first year following alfalfa. In drip fields, KTS is usually the remedy."
Many growers appear to have adjusted their nutrient programs to suit the new realities of higher-yielding tomatoes.
"I don't know if growers are increasing potassium fertilizer applications. It seems to me they moved from just nitrogen, used 20 years ago and more, to NPK blends so potassium deficiency isn't widespread." Stoddard said.
The take-home message looks to be that it is important to test the soil regularly to make sure there is enough available potassium to support the potentially high tomato yields.
"When there is a potassium deficiency as determined by soil tests, applications are made," said Tom Turini, UCCE farm advisor based in Fresno. "At this point, I am not aware of severe potassium deficiencies in the area, but it can occur."
Soil and tissue sampling are the sensible way to learn if a field is developing this deficiency.
"Samples are best taken in late fall or early spring," Aegerter said. "Soil sampling should be from the top foot and within the drip tape wetted zone if the field is drip irrigated. Soils with less than 200 parts per million potassium, from an ammonium acetate extraction lab procedure, are likely to show a yield response to potassium fertilizer. Fields with levels below 150 parts per million are especially likely to respond. Another factor to consider is the soil potassium level as a percentage of caution exchange capacity. Fields with less than 200 parts per million potassium and also less than 2 percent potassium are most likely to respond to potassium fertilization."
A variety of issues can also cause uptake problems, however, even from soil that has enough potassium.
"Preseason soil sampling appears to be a better indicator of potassium status compared to in-season plant tissue sampling," Aegerter said. "At first bloom, whole-leaf nutrient sufficiency guidelines for potassium range from 2.2 to 3.5 percent. By full bloom, this drops to 1.6 to 3.1 percent. At full bloom, tissue sampling may be useful to diagnose a problem, but it is too late for a potassium application to correct a deficiency."
Miyao and UCCE specialist Dan Geisseler recently published research on soil testing of potassium and phosphorous for annual crops in California Agriculture article available online at http://bit.ly/2pxAbrW.
(Bob Johnson is a reporter in Davis. He may be contacted at bjohn11135@aol.com)