Grower's Secret
LAWN CARE 3-2-2
Greener Denser Lawns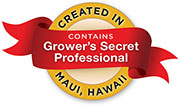 Plant based nutrients to promote greener denser lawns. Suitable for all lawn grasses as a foliar nutrient.
Fortified with Grower's Secret Professional plant growth enhancer.
Use as part of your maintenance program to enhance the thickness and color of your lawn.
Hose end sprayer included for easy spray application! Simply attach to the hose end and spray!