Hello there! My name is Chyann, I work for Grower's Secret and I have a backyard garden containing 3, 6x6 raised beds, a 12x4 tomato bed, bean trellis and much more.
This is my first blog post of many about my backyard garden. I consider myself more of a chaotic gardener than an organized one. Oftentimes, I will start out a new season with plants spaced evenly, labeled, and neat. By the end of the season, as plants fail to thrive or finish producing for the season, space is made in the garden and I just see what will grow in the newly made space by planting random seeds and starts in that area. This means my garden is often in many stages of growth. In this blog I plan on discussing my successes and failures, different projects I try, plants I grow, and products I use.
I have grown and expanded this backyard garden for about three years now. But I may be getting ahead of myself, before I get into that let's talk about my background in agriculture first. I first realized my interest in plants when I was 15 or 16. I participated in a High School program called The Future Farmers of America. Here I learned a basic understanding of plants, soil, hydroponics, floral, animals, public speaking and so much more that would make this list way too long. Let's just say this program gave me a broad understanding of many aspects of agriculture. From there I expanded my knowledge in the classroom and out of it when I was accepted into California State University Fresno. I took many classes and gained a deeper understanding of plants specifically. I learned this is what I love. I love watching plants grow, understanding how they produce and feed people, how they take up nutrients, and probably just about any aspect of plants. In college, I worked in plant nurseries helping to educate people on different plants, and what goes best with what they want. I also have worked on a large pistachio ranch, where I fixed issues with their irrigation. I learned about water pumps, filters, and average pressure, I also got to watch pistachios age from flower to harvest.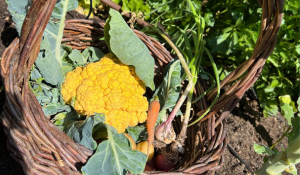 Towards the end of my college career, I met Chaz Berman, and the rest is history. I have worked with Grower's Secret ever since, starting full-time after I graduated from Fresno State in May of 2022. Since then I have gained a deeper understanding of plant nutrition, and a new interest in nitrogen, organic plant-based nitrogen specifically, and how it can help feed plants. A nutrient that is made from plants, for plants gave me a newfound desire to gain a deeper understanding of plants on a molecular level.
Now I have a garden where I grow a lot of the plants that I use in my cooking. I have even grown certain veggies to try them. Veggies like broccoli, cauliflower, and spinach I didn't like before I grew them myself, but now I look forward to growing them each year. My garden checks off a lot of personal boxes for me, it is something that provides food, peace, a hobby, creativity, and knowledge. I use my garden to learn and experiment in a safe way. My garden can bring ease and relaxation, but also can bring excitement and new discovery. Gardening is a hobby where you can find something new every time you go outside and check on the garden. Growing a garden takes hours of work, dedication, and upkeep. But the journey is worth it.
.